Residents: Luminaria parade isn't the same | News
JACKSONVILLE, Fla. — It's beginning to look a lot like Christmas around the First Coast and residents in Avondale and Riverside gathered for the 31st annual Luminaria lighting Sunday.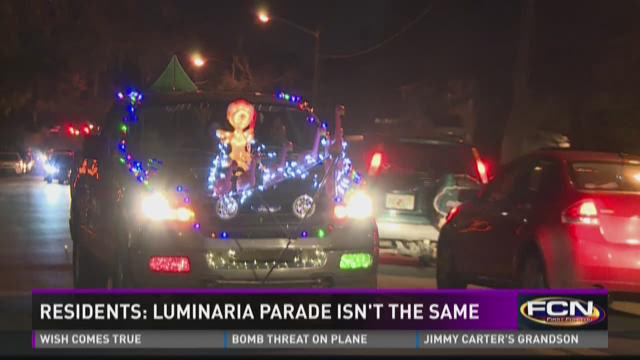 The even started as a community fundraiser but has turned into an all out party.
"The neighborhood comes together and everybody celebrates a beautiful evening," Stephen Roberts said.
White paper bags with sand and a tea candle inside, line the sidewalks. However, this year, something was different
"They've scaled back a little bit. Also, they implemented some other stuff."
Families used to line the street for an impromptu parade filled with holiday greetings and lots of candy for onlookers. But complaints from residence about safety concerns and trash left in the street caught the attention of law enforcement.
"They don't want people riding on the backs of tailgates or drinking," Roberts said. "I'm happy about the changes. It's better. It's a family environment so we don't need that type of stuff."
Others disagree.
"I'm not happy about it. Last year I was the guy – well some guys were out shooting marshmallows and having a good time with it. Now, it seems like they've taken a little of the fun out of it – just not being able to ride in trailers and not being able to shoot people with marshmallows."
A large sign reminded drivers of the new rules:
• No throwing candy.
• No riding in trailers.
Some chose not to comply and were stopped by police.
"People should sign a petition to stop this," a little boy said.
With that idea, a group grabbed a notepad and pen to begin collecting signatures for a petition asking the Jacksonville Sheriff's Office to reverse the new rules.
"When they are taking away the trailers and candy, they are taking away the basic fun of luminaries," another kid said.
We've reached out to JSO to see if anyone received an actual ticket during the event. We will update this story when we hear back from them.